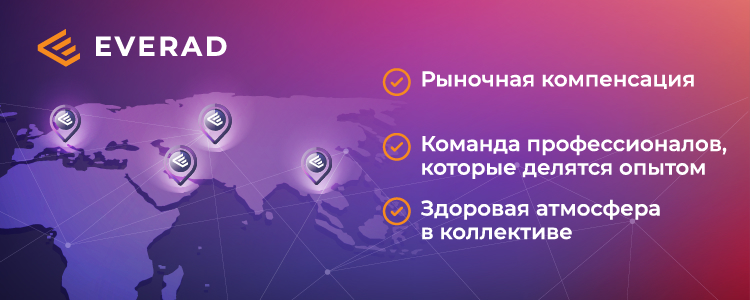 Опубликовано 2 дня назад
Full Stack JS Developer
Киев
Контрактовая площадь
Показать на карте
Валерия
380xx xxx xx xx показать
Everad is a global direct advertiser and CPA network in Nutra vertical (Health&Beauty).
CPA network is a platform and an advertising model where publishers are paid for an action that is taken as a direct result of their marketing.
We started in 2012 with a small team on boards. Now we cover markets of the CIS, Europe, Asia and Central Africa.
Over the years, we have received the title of "Best Affiliate Network of the CIS", and our company has been recognized as one of the best IT employers in Ukraine according to the DOU rating 2
.
Everad's projects: CRM system, CPA network.
Our CRM is a custom solution, an internal CRM system for business needs. Our CPA network in 2016 received the title of "Best Affiliate Network of the CIS".
We are looking for Middle Full Stack .js Developers for projects: CPA platform or CRM system.
Professional Duties:
Creating and coding complete (front-end and back-end) solutions to satisfy given business requirements;
Participating in code reviews, application performance and maintainability optimization.
Working experience:
2+ years of experience with Node.js.
Requirements:
Good understanding of JavaScript;
Experience with PostgreSQL;
Experience with Vue or React;
Strong analytical skills.
Will be a plus:
Experience with HTML, CSS;
Experience with Redux, RabbitMQ, Docker.
We offer:
Opportunities for professional and career development;
Informal style of leadership and communication;
Flexible working arrangements: from 9-11 am to 6-8 pm;
The possibility of remote work 2-3 days per week;
Paid leave and additional financial motivation;
Сool, centrally located office with warm atmosphere (Kontraktova Ploshcha metro station).
We want you to join our team as soon as possible!
Learn more about the company's life and open job positions: https://www.facebook.com/everad.newjob/
Пожаловаться на вакансию

Получайте новые вакансии

в мессенджерах!
Получать в Viber