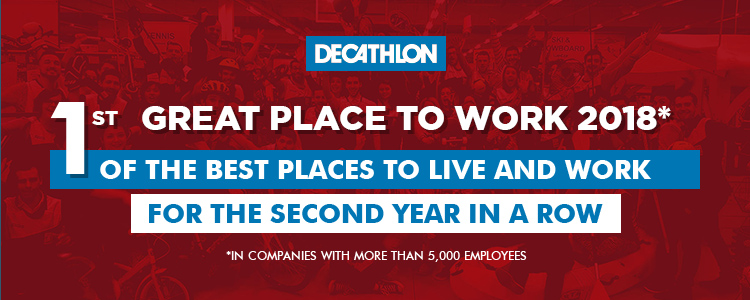 Опубликовано 4 дня назад
Tech Lead | Back-End Developer
проверено
Торговля розничная / Retail
---
Почайна (Петровка)
Киев, Проспект Степана Бандери, 15-Г

показать на карте
Sergey
https://www.decathlon.ua
полная занятость
английский
Description:
Decathlon Ukraine is looking for an intermediate or high-level back-end developer who has a passion for delivering excellent experiences to internal and external users. Applicants should be ready to rock at a fast-paced and fluid development pipeline and be able to deliver stable, secure, and high-performance solutions to difficult problems.
This is a permanent full-time position have plenty of opportunities to grow with a tight-knit sports-oriented team that values work life balance. Love sports and coding? This is the position for you!
Your profile:
Experience with a wide variety of back-end focused technologies

An understanding of the great design and user experience

Passionate about the growth of sports using innovative technology

Creative and open-minded

Highly energetic and self-motivated

Loves to tackle problem-solving challenges

Keeps up with the latest technology trends and sports culture
Responsibilities:
Build a team and take responsibility for the technical local support of corporate e-commerce solutions.
Implement technological solutions to improve the end-user experience, through changes to our technology ecosystem.

Local improvements and customization for the development of local business, as well as participation in the global development of the project
Commit to the global repository, taking into account the general development strategy for the countries of Asia, America and Eastern Europe.
The ability to organize one of the hubs of development/support centers for neighboring countries.
Your skills:
5+ years experience of back-end focused web development.

Experience with Unix systems.

Experience with databases and memory stores (Postgres and Redis)

Experience building PHP, Python applications.

Experience building (REST) APIs.

Ability to debug complex problems involving full stacks of API, database and network layers.

Experience with Docker.

Experience with cloud provider.

Experience on CD/CI.

Experience on Unit Test / Pull Request.

Excellent testing/debugging skills.

High level of organization and strong attention to detail.

Advanced English.
Working conditions:
-Competitive salary
-Yearly bonus
-Medical insurance
-Official employment
-Sport activities
-Young, ambitious, sportive, friendly team
-Experience in an international company with European management
-Opportunity to become a shareholder
-Laptop
-Office in Decathlon store next to Pochayna metro station
About Decathlon
Decathlon is a French company with over 1500 sports stores in 50 countries. We are largest sporting goods retailer in the world with over 90.000 employees. Products that Decathlon sells are manufactured by Decathlon itself under 26 trademarks.
Our goal is to make sport accessible to Ukrainians.
Join us!
www.decathlon.ua
Subscribe and find out the news :)
> https://www.facebook.com/Decathlon.ua/
> https://www.instagram.com/decathlon.ukraine/
Надсилаючи резюме, Ви надаєте згоду ТОВ "ДЕКАТЛОН УКРАЇНА" на збір та обробку персональних данних.
Пожаловаться на вакансию