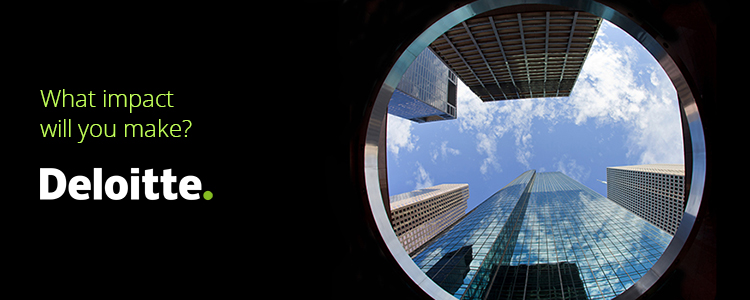 Опубликовано 3 дня назад
Manager - Corporate Tax group
Консалтинг / Аудит
Больше о компании
Киев
, вул. Жилянська, 48/50а
Олимпийская
Показать на карте
Deloitte is seeking a Manager to join the Corporate Tax group within the Tax and Legal department at the Kyiv office.
If a path doesn't exist, create your own.
Deloitte is one of the leading international professional services firms that offers audit, consulting, corporate finance, enterprise risk, and tax and legal services.
Our vision and strategy, developed in collaboration with leadership and member firm partners from around the world, focuses on working together As One across geographic, functional, and business borders to deliver excellence in all of the services provided by the member firms.
Corporate Tax Practice delivers comprehensive and innovative tax services to clients worldwide. Our activities are not limited by a particular business industry; we provide a wide range of tax services to clients in such business areas as manufacturing, consumer & transportation, technology, media, retail and distribution, agriculture, infrastructure, etc. We are a practice that is expanding rapidly and we are completely committed to attracting and retaining highly skilled talent to join our team.
As a Manager of Corporate Tax group, you will have a unique opportunity to participate and oversee a wide range of cross-functional engagements, gaining deep expert knowledge of a variety of fields and industry sectors, boost your knowledge in finance, domestic tax legislation, and key trends in international tax law. Such diverse experience provides an excellent opportunity to build a rewarding career.
The role will involve:
Working independently and as part of an experienced team on complex tax consulting, tax M&A, tax review, and tax audit projects for major companies within a wide range of industrial sectors as mentioned above.
Cooperation with the other Deloitte teams on complex tax engagements (i.e. M&A projects).
Maintaining a strong focus on client service delivery - working closely with your existing clients as well as developing proposals for potential new clients.
Reviewing clients' deliverables prepared based on relevant research and analysis made by junior team members.
Communicating consistently with your current clients, maintaining an exceptional level of professional knowledge when holding such discussions, and constantly coming across as a credible expert in your field.
Managing more than one assignment/project at any given time.
Requirements:
A University qualification in Accounting, Finance, or Economics or Law (in case of relevant experience).
5+ years of relevant experience obtained either from professional services firms or from the industry.
Solid technical knowledge concerning National Taxation. Basic knowledge of international taxation and tax M&A will be a plus.
The ability to work independently and as a part of a team.
Excellent communication skills - upper-intermediate English and the ability to present and write concise, clear business summaries.
The ability to effectively lead a team and to manage multiple engagements.
The ability to be highly result orientated and to meet tight deadlines.
A high degree of self-motivation, drive, and ambition.
Strong commitment to providing excellent client service at all times
We offer:
Competitive market level salary, subject to annual increase according to your performance and professional growth (the salary increase date is fixed within the Firm)
Insurance coverage: life, travel and health, health and life coverage for one family member
Mobile phone reimbursement
Excellent opportunity for professional and personal development
Interesting and diversified projects
Professional qualification (ACCA)
Possibility to apply for training abroad (after 1-2 years of work);
Flexible working regime
Extensive training in both core competencies and soft skills
Annual summer training, taken place outside Deloitte premises
The friendly and energetic environment
Corporate citizenship
At Deloitte, we believe in the importance of leadership at all levels. We expect our people to embrace and live by our purpose by challenging themselves to identify issues that are most important for our clients, our people, and for society, and make an impact that matters.
Deloitte is led by a purpose: to make an impact that matters. Every day, Deloitte people are making a real impact in the places they live and work. We pride ourselves on doing not only what is good for clients, but also what is good for our people and the communities in which we live and work-always striving to be an organization that is held up as a role model in terms of quality, integrity, and positive change.
At Deloitte, we are completely committed to attracting and retaining professional and ambitious talent and as such we are absolutely dedicated to investing in and helping our people to excel. The fact is we believe building strong relationships with our people is as important to the success of our business as building strong relationships with clients.
We are flexible in our approach and are committed to changing, adapting, and improving both internally and with regard to the services, we offer our clients. As a result, we look for candidates who are not only skilled professionals in their field but who can also partner with us - candidates who are able to adapt, change and drive this exciting improvement forward with us. We are dedicated to giving you all the tools available to fulfill your potential and we are able to offer you our 100 percent commitment as your career partner for the journey.
At Deloitte, we know that great people make a great organization. We value our people and offer employees a broad range of benefits. Learn more about what working at Deloitte can mean for you.
We thank all applicants in advance for their interest; however, only those candidates selected for an interview will be contacted.
Please note that you will be asked to provide your passport details in order to complete the application process.
Пожаловаться на вакансию
Похожие вакансии
Похожие вакансии по городам
Похожие вакансии по профессиям