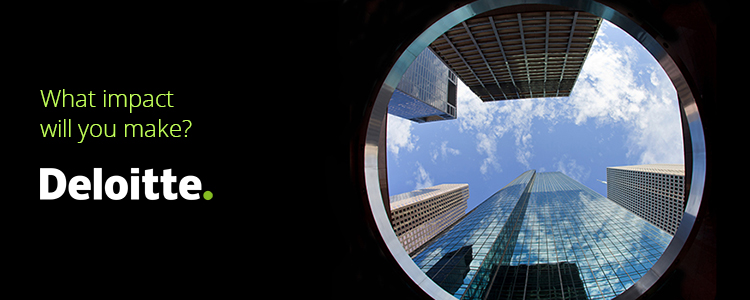 Опубликовано 3 дня назад
Junior Consultant to International Tax team
проверено
Консалтинг / Аудит
---
Киев, вул. Жилянська, 48/50а

показать на карте
Олена
http://www2.deloitte.com/
полная занятость
английский
Deloitte is seeking a Junior Consultant to join the International Tax group within the Tax and Legal department at the Kyiv office.
If a path doesn't exist, create your own.
Deloitte is one of the leading international professional services firms that offers audit, consulting, corporate finance, enterprise risk, and tax and legal services. Our vision and strategy, developed in collaboration with leadership and member firm partners from around the world, focuses on working together As One across geographic, functional, and business borders to deliver excellence in all of the services provided by the member firms.
As a Consultant with the International Tax team, you will have a unique opportunity to participate in international tax consulting and structuring projects for large Ukrainian businesses and multinational corporations, work closely with colleagues from foreign Deloitte offices and be part of a truly global team!
The role will involve:
Doing research and drafting tax advice (memorandums, presentations, etc) on the following matters:
Assistance in designing international corporate and operational structures for businesses;
Research and analysis of various corporate and individual tax matters in Ukraine and foreign jurisdictions;
Calculation and assessment of the effective tax burden;
Direct participation in the implementation of international tax structures and ongoing communication with foreign Deloitte offices and/or service providers.
Requirements:
University Degree (Law / Finance / Economics is preferable);
Fluency in English is a must (both written and spoken proficiency required);
Proficiency in using MS Office (Excel, Power Point, Word);
Ability to work under pressure, meet strict deadlines and cope with multiple tasks;
Strong communication and interpersonal skills, ability and willingness to work in a multicultural team;
Strong analytical and technical skills, ability to learn quickly;
Attention to detail with a commitment to high quality and accuracy;
Good sense of humor.
We offer:
Competitive market level salary, subject to annual increase according to your performance and professional growth (the salary increase date is fixed within the Firm);
Career growth;
Health insurance;
Personal and professional development programs;
Extensive training in both core competencies and soft skills;
Annual summer training, taken place outside Deloitte premises;
Friendly and energetic environment as well as significant support from colleagues.
Corporate citizenship
At Deloitte we believe in the importance of leadership at all levels. We expect our people to embrace and live by our purpose by challenging themselves to identify issues that are most important for our clients, our people, and for society, and make an impact that matters.
Deloitte is led by a purpose: to make an impact that matters. Every day, Deloitte people are making a real impact in the places they live and work. We pride ourselves on doing not only what is good for clients, but also what is good for our people and the communities in which we live and work-always striving to be an organization that is held up as a role model in terms of quality, integrity, and positive change.
At Deloitte we are completely committed to attracting and retaining professional and ambitious talent and as such we are absolutely dedicated to investing in and helping our people to excel. The fact is we believe building strong relationships with our people is as important to the success of our business as building strong relationships with clients. We are flexible in our approach and are committed to changing, adapting and improving both internally and with regard to the services we offer our clients. As a result, we look for candidates who are not only skilled professionals in their field, but who can also partner with us - candidates who are able to adapt, change and drive this exciting improvement forward with us. We are dedicated to giving you all the tools available to fulfill your potential and we are able to offer you our 100 percent commitment as your career partner for the journey.
Our strategy and our aspiration is to be the undisputed leader in professional services. One of Deloitte's key business leadership priorities is to attain a globally uniform level of quality in each of our core services. Development of the Talent Standards is a global initiative, which aims to define and activate a consistent standard for talent around the world for each of our global core services and service lines, and across all of our Member Firms. Please follow the link to learn more about the Global Talent Standards.
At Deloitte, we know that great people make a great organization. We value our people and offer employees a broad range of benefits. Learn more about what working at Deloitte can mean for you.
We thank all applicants in advance for their interest; however, only those candidates selected for an interview will be contacted.
Please note that you will be asked to provide your passport details in order to complete the application process.
Пожаловаться на вакансию